Age Of barbarism!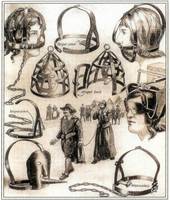 It has been few days since Eshrat Shayegh (member of parliament) came up with the idea of executing prostitutes.
Last night while I was surfing the net I came across her recent
interview
with Chelcheragh magazine. In the interview Mrs. Shayegh clearly states her negative opinion of some prominent Iranian writers and goes on further to suggest that what should be done about them.
I am still in a mental shock and can't digest the fact that how can an human being, a member of parliament and a mother associate herself with such evil thoughts.
Mrs. Shayegh prescribes punishments such as imprisonment and death penalty like she is prescribing Aspirin for a simple headache.
What bothers me the most is her easiness of mind while she talks and deals with these issues. If we were living under a democratic system, not only had she to apologize to the people, but also had to resign her post.(With Iran's current system, this is just a far fetched dream.)
All I can do is to condemn Mrs. Shayegh's opinions in my own private space which is my weblog. I condemn her not only for her disrespect towards women, but against anything which is good and humane.
One thing which I can't apprehend is that why organizations such as:
Iranian feminist Tribune
or
Women In Iran
didn't react more strongly?. I just wish that there could be a platform in which we could all react.
I know I might seem rather naive but doing something is better than not doing anything. Don't you think?
So, please if you have any good ideas get in touch.